Avenue One seeks to distill the natural splendour of the Pacific Northwest, channelling the tranquil grandeur of our coastal setting into a modern community at the heart of Vancouver's Southeast False Creek. With unbridled views of both mountains and sea, Avenue One affords a unique sense of place within a modern urban community.
LIV Design Studio is proud to finally lift the curtain on this eagerly anticipated new project. In this post, we'll share exactly how this undertaking was brought to life, what inspired our team throughout the creative process, and how Avenue One exemplifies our Visually-Led Design approach. We'll also be hearing from LIV's Interior Designer, Deanna Mok, for more insight into the creative process and what inspired the team while bringing Avenue One to life.
About Avenue One
Avenue One is the realization of a desire we shared with our client on the project, Concord Pacific, to reintroduce elements and principles of nature and harmonized living into the bustling Southeast False Creek neighbourhood. At every turn, Avenue One brings residents closer to their surroundings and in tune with the land we call home. From the private water gardens to the seamless indoor-outdoor transitions found throughout Avenue One, the project is a veritable love letter to the Pacific Northwest and all that makes it unique.
Location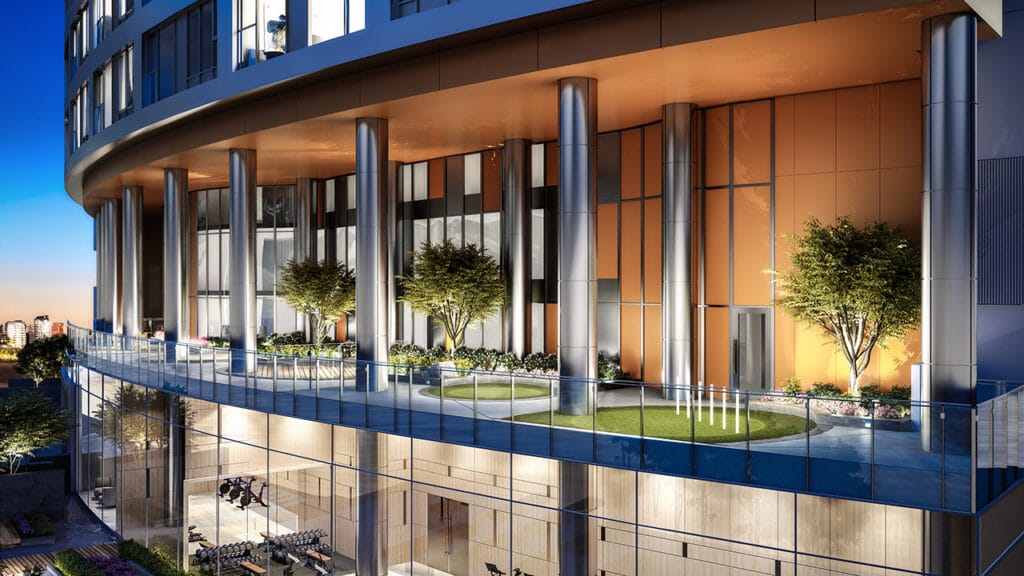 Avenue One's breathtaking setting is something LIV's interior designers strove to emphasize throughout the project. Tying in natural materials and elements of both land & sea within Avenue One was tantamount to bringing our vision to life.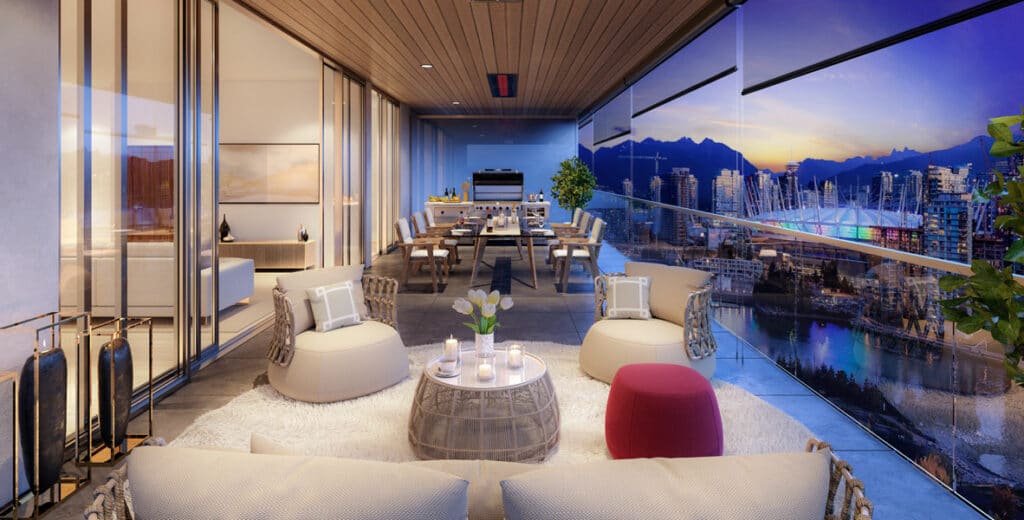 Stunning views of the North Shore mountains and False Creek are visible from each unit, emphasized by optional "outdoor living rooms" like this one – the perfect encapsulation of indoor-outdoor living at its best. Large sliding glass doors allow for convertible living space with uninterrupted views of False Creek's stunning surroundings. Additionally, our designers opted for motorized balcony blinds for privacy and the ability to conveniently configure the room. This feature isn't typically seen in condominiums, adding an extra layer of luxury to Avenue One's design.
Design Concept & Inspiration
In a profound sense, the design of Avenue One is firmly rooted in its Pacific Northwest setting, but LIV sought inspiration from a number of sources during the ideation and design process. As always, our team's focus was on creating interiors that were timeless and unique, with a pronounced sense of place. Invoking our TECH/DESIGN/CULTURE ethos, the LIV Design Studio team sought furnishings and features that could become a part of residents' everyday routines, and harmonized with the ways in which they envisioned the space.
"This accent wall was inspired by rain – a common feature here in the PNW"

Deanna Mok, Interior Designer at LIV Design Studio
The feature wall found in Avenue One's lobby both ties together the shared space, setting the tone for the building's quietly elegant interiors, and also provides a subtle nod to perhaps British Columbia's best-known attribute: rain. Designed to be reminiscent of falling droplets, the rods of light illuminate the space in a refined fashion.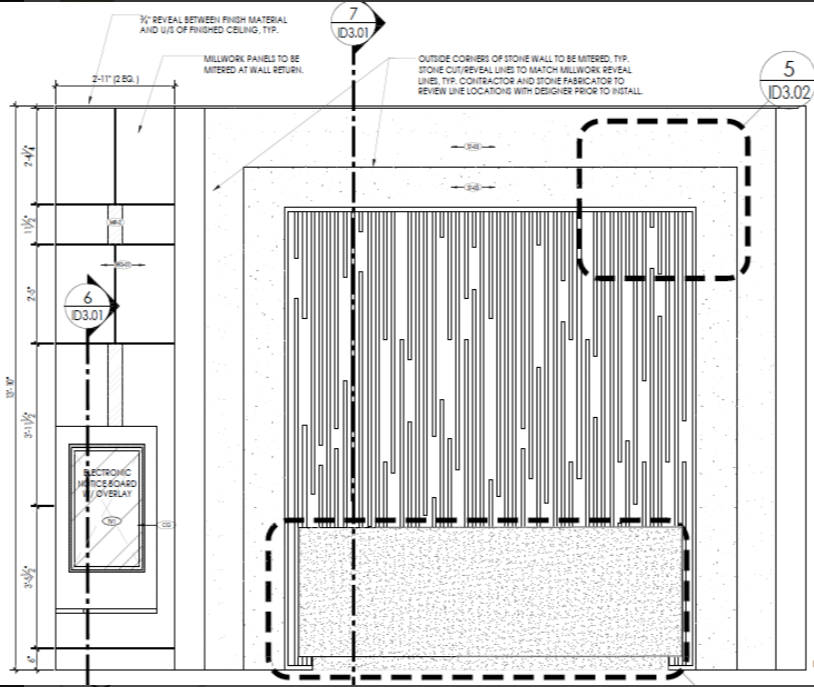 "We used uplighting to make the lobby's corridors appear much taller than they are in reality, giving the space a palatial feel"

Deanna Mok, Interior Designer at LIV Design Studio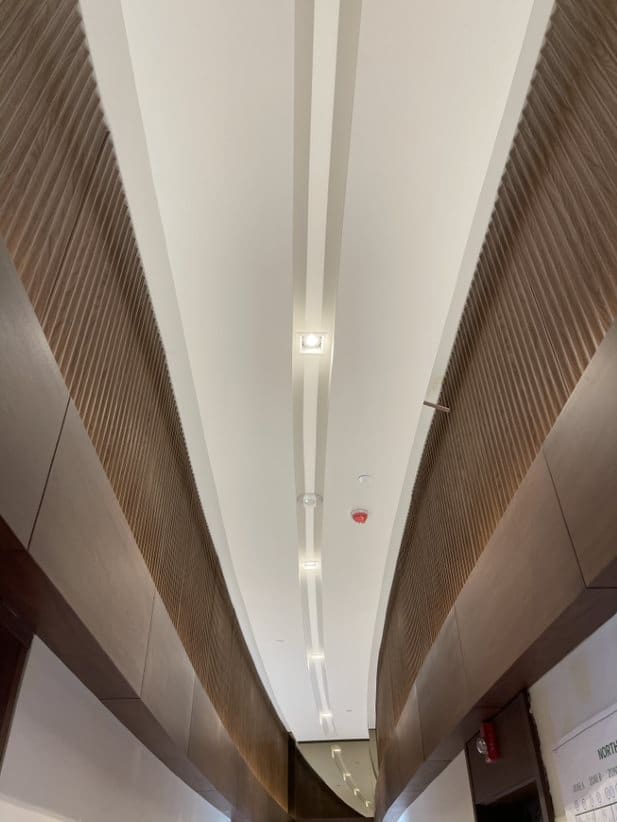 When envisioning the hallways stemming from the lobby, the LIV team wished to add dimension, emphasizing the space while making the ceilings appear higher through the use of light.
Amenity Space Design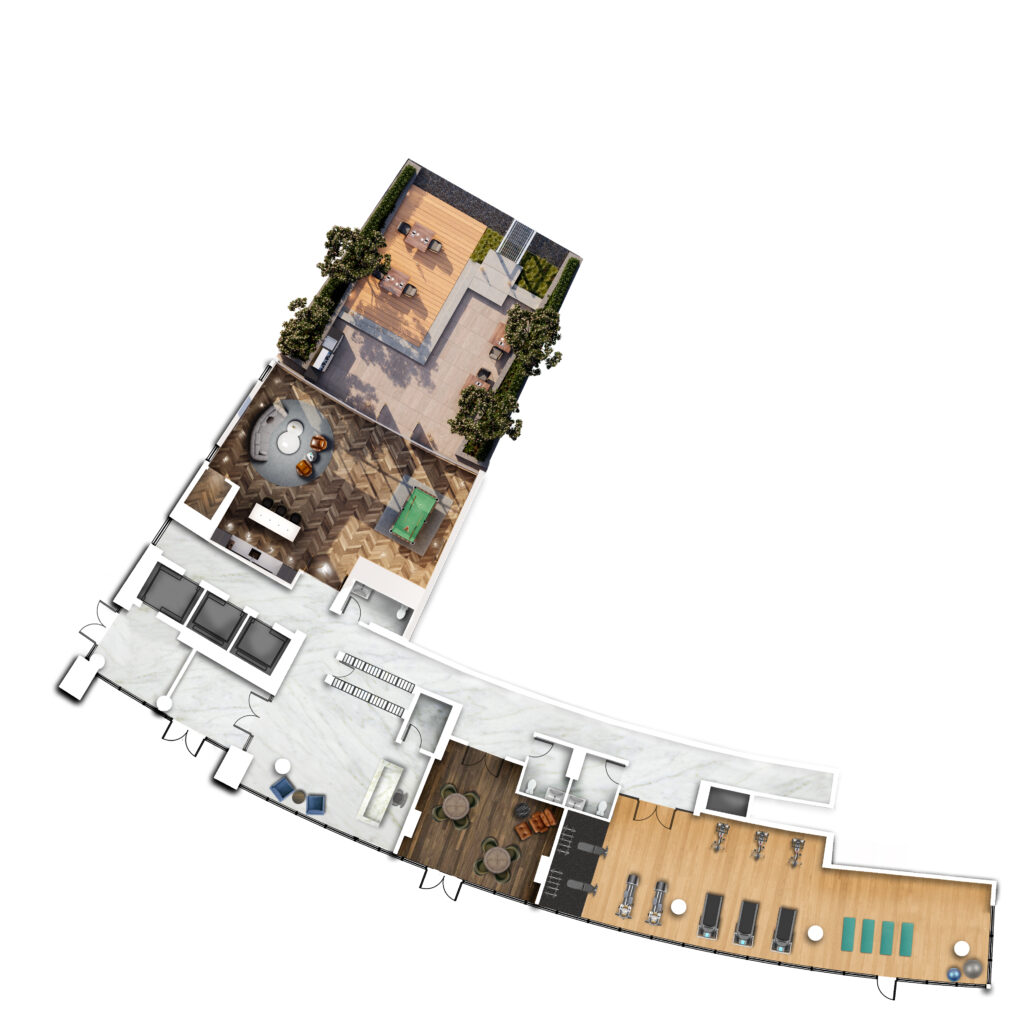 Avenue One's many and varied amenity spaces are focused on building community and encouraging a relaxed, holistic lifestyle for residents. Unexpected green spaces and areas for convivial gathering abound here, each with thoughtful design that encourages community-building and thoughtful interaction with one's surroundings.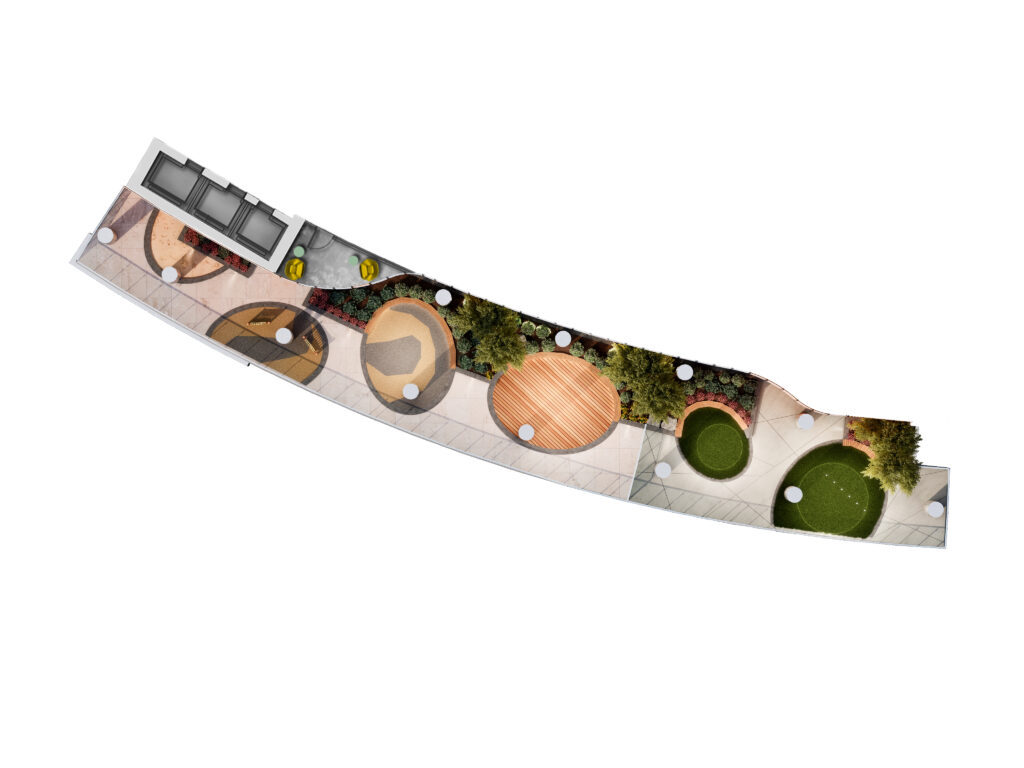 The Lounge
A focal point of Avenue One and a prime example of LIV's timeless elegance is Avenue One's calming lobby. Rich dark wood walls instantly put residents and their guests at ease, matched by sumptuous curved couches designed for informal gatherings and catching up with old friends. The cascading chandelier is an opulent touch that looms large over the space, providing a soft, subtle glow accentuated by the abundant natural light streaming in from outside.
Viewed from above here, one gets a better sense of the many options available within Avenue One. Residents and their guests can gather and relax at either the indoor & outdoor party lounge on the ground level, which also features its own barbecue area, or the spacious indoor lounge on the third floor. Also on the third level are a games / card room, a child's play area and even a dog park for canine companions.
Visually-Led Design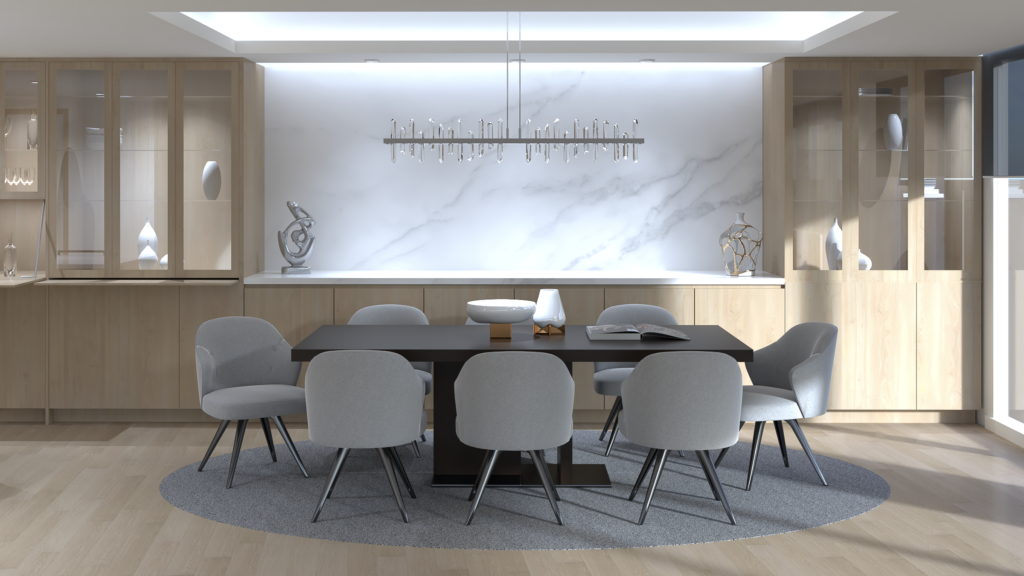 LIV Design Studio's unique Visually-Led Design (VLD) Approach uses hyper-realistic 3D renderings as a communication tool, aiding our team in creating holistic designs that align with both client goals and end-user modes of using the space.
Shown here are final CG renderings of a standard kitchen design for Avenue One that captures all the nuances of the space including exact placements and specifications of furnishings, allowing for enhanced and streamlined communication and feedback processes.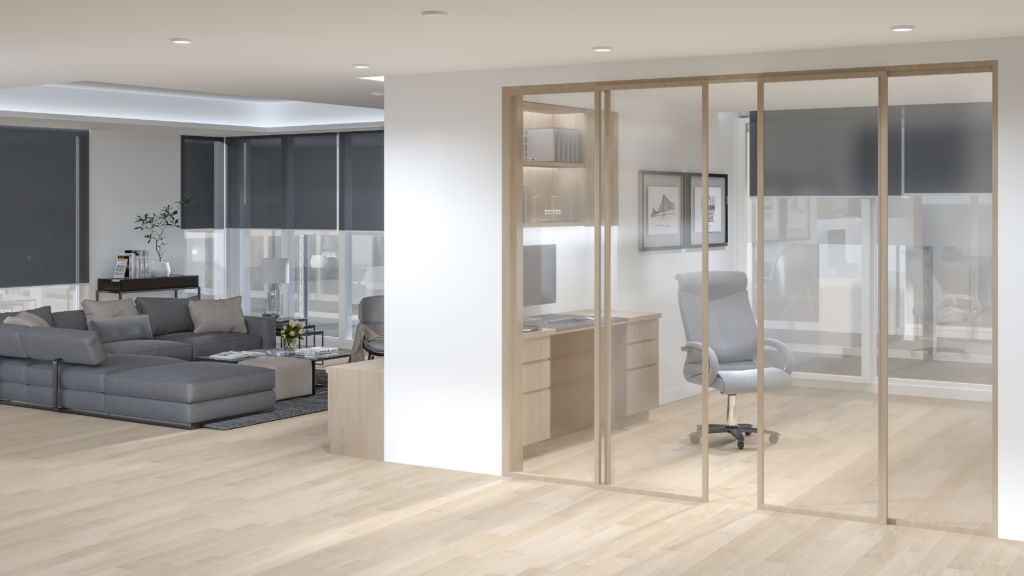 The in-unit offices are another area that greatly benefitted from LIV's VLD approach. With specific dimensions and space requirements, ensuring that specifications are met allows for a smoother progression from design to construction.
---
Avenue one was an exciting project for our team, allowing us to bring our VLD Process and reimagine our design principles through a deeply West Coast lens. For more photos and insights into the creative process for Avenue One, be sure to stay tuned to our Instagram.
PREV. ITEM
NEXT ITEM
READ COMMENTS -
0 COMMENTS