Lunar New Year marks the end of winter and the onset of spring, heralding auspicious tidings and the promise of new beginnings. With this comes an opportunity to revel in shared festivities as we collectively cast our sights on the year ahead. Lunar New Year is an opportunity for convivial gatherings amongst family and friends brimming with tradition, culinary delights and of course, gifts.
To aid in this year's revelry, the LIV Design team has curated a selection of thoughtful objects and experiences for you and your loved ones, all with the Year of the Tiger in mind. The tiger is the third of twelve animals in the Chinese Zodiac, following the Ox. Legend has it that during the Qin Dynasty, the Jade Emperor challenged all the animals in the kingdom to a great race to see who would arrive at his palace first, thus winning his favour. Though the tiger thought itself an easy favourite, it was the cunning Rat and dependable Ox that came out on top. Nevertheless, the tiger remains a steadfast symbol of bravery and ambition with a firm belief in the ideals of justice – qualities we would all do well to manifest throughout 2022.
At LIV Design Studio, our traditions for welcoming this propitious holiday are as diverse as our team itself, yet two universal aspects tie our celebrations together: food, and family. With this in mind, we're highlighting a selection of festive fare, fabulous gifts and functional objects for your home and wardrobe to help you usher in the Year of the Tiger in style.
"For me, Lunar New Year means leaving all the negative energy behind and starting fresh again. It's not about the amount of money or gifts you receive but the time spent together with family."

Lina Deng, Interior Designer at LIV Design Studio
Lunar New Year Gifts For The Home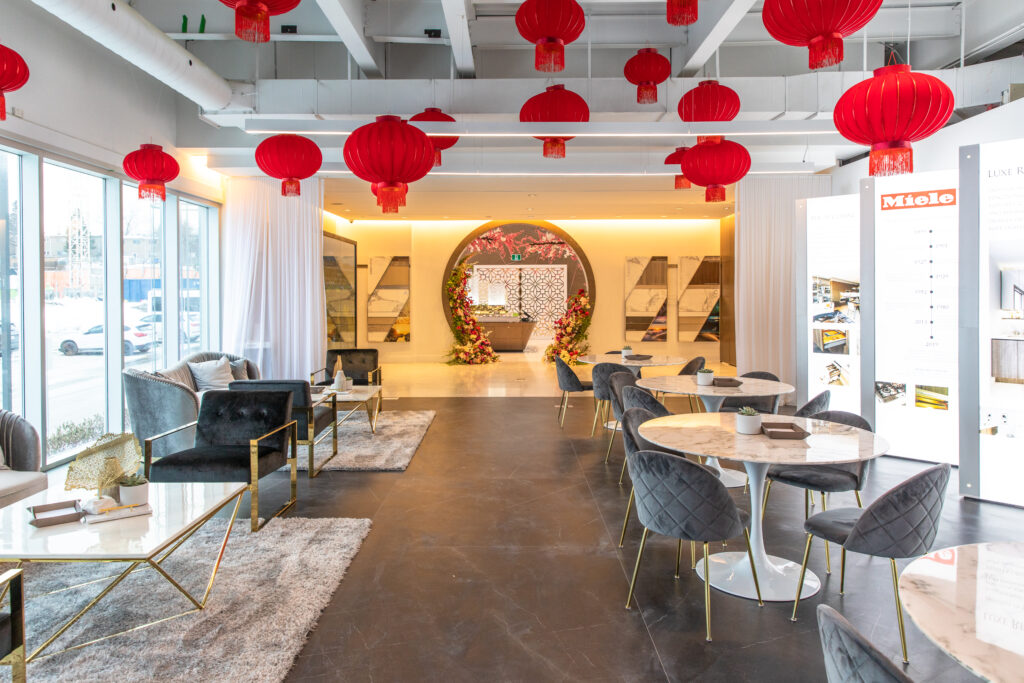 Many Lunar New Year traditions are centred around preparing the home for the coming year, bidding farewell to things of the past and welcoming what's yet to come. This annual refresh is not only an excellent opportunity to rid your home of any lingering malaise but to usher in the upcoming year with new pieces for your living space.
"My grandpa writes Fai Chun for our family to put on our doors", says Cecilia Zhou, an Interior Designer here at LIV.
"It has four parts, like a poem – with a title on top and a square letter 'Luck' in the middle. The middle part is upside-down which has the same pronunciation as 'arrive' in Chinese, therefore symbolizing the arrival of luck or happiness."
Invite joy and good fortune into your own home with Lunar New Year inspiration from the LIV Design Studio team.
Garden Party Flowers
What better way to welcome the Year of the Tiger than with the sweet fragrance of a floral arrangement? Flowers represent growth, rebirth and prosperity in Lunar New Year tradition, with individual varietals holding their own unique meanings. Orchids are a particularly sought-after choice for their dignified appearance, symbolizing abundance and fertility for the year ahead. Whether for your own home or that of your hosts, Garden Party offers plenty of captivating arrangements for your Lunar New Year celebrations.
GoodBeast
The gorgeous, hand-spun Droplet Vessel from GoodBeast is made at the designer's Vancouver studio and is the perfect way to add elegance to your organizational endeavours. As innocuous and captivating as a freshly formed dewdrop, this vessel makes for a delicate centrepiece or a tasteful dish for holding your jewelry or for serving small dishes or fruit upon.
Design House Stockholm
Though red is typically recognized as the colour of good fortune in Lunar New Year tradition, gold has its own role as a symbol of wealth and prosperity. This Knot Cushion by Design House Stockholm adds a dash of both to your interiors, not to mention brightening up your living space along the way. Knots, particularly infinite ones, are themselves symbols of longevity – which by our estimation makes this stylish cushion doubly lucky.
Lunar New Year Gifts For Foodies
"Lunar New Year symbolizes unity by bringing all generations of family members and friends together and surrounding ourselves with lots of laughter, music and auspicious food!"

Lina Deng, Interior Designer at LIV Design Studio
At the heart of nearly every Lunar New Year celebration is an elaborate spread of sweets, treats and traditional dishes, each with its own special meaning. Here, we've gathered some of our favourite seasonal picks from local artisans and establishments around Vancouver to add even more deliciousness to your Year of the Tiger feast.
Potluck Hawker Eatery
Enjoy an opulent meal without the countless hours of prep thanks to Potluck Hawker Eatery's 8-Course Lunar New Year Feast. Inspired by the chefs' upbringing and incorporating unique rituals and traditions from South-East Asian culture, this praise-worthy selection of dishes feeds four to five people and is even available for pickup for those looking to bring the fanfare home this Lunar New Year.
Heed the advice of Lina Deng, an Interior Designer here at LIV:
"The best way to welcome the New Year is by eating foods that are considered to bring good fortune like fish, noodles, dumplings, rice cakes and oranges or tangerines."
Potluck's Lunar New Year feast abounds with fortuitous foods and would make for an excellent meal to share with your family and friends during the holidays.
Beta5
Beta5's eye-catching and utterly delicious chocolates and creampuffs have rightfully earned them legendary status among discerning dessert enthusiasts in Vancouver and beyond. For the Year of the Tiger, Beta5 has assembled a three-piece creampuff set that's as stunningly beautiful as it's sure to be tasty. Included is a jasmine milk tea offering with pineapple curd, a mandarin orange puff perfectly shaped like the fruit itself, and a special "Tiger" iteration featuring ginger custard, brown sugar chantilly cream and black sesame cake.
Sugarfina
Sugarfina's 8-piece Candy Bento Box is a perfectly festive assortment of unique and seasonal candies, contained within a limited edition, hand-crafted shadow box for the perfect gift. Flavours like lotus flower, green tea and rose berry tea are sure to delight the senses.
Premium Teas – Harney & Sons
Alongside sweet fruit and treats, tea is the traditional way to welcome guests into your home during Lunar New Year celebrations. Harney & Sons have crafted the perfect blend of oolong tea flavoured with bright ginger root and fresh notes of lychee and lemon.
LIV has partnered with Premium Teas for exclusive savings on this special Lunar New Year tea blend and their many other fantastic products. Use the promotional code "LIVLUNAR" for 5% off orders of $50 or more, plus free shipping to Canadian provinces (expires April 30, 2022).
Sun Sui Wah
A perennial favourite among Vancouver diners, Sun Sui Wah has a proud history of creating truly distinguished dim sum alongside showstopping Cantonese dishes like their famous whole-roasted squab. For the Year of the Tiger, Sun Sui Wah is offering an eight-course menu available for pickup, featuring a selection of traditional dishes as well as some unique offerings.
Kouign Café
Kouign Café's White Rabbit Cookies have been making waves among the Vancouver food scene since the bakery opened, and there's no better time to enjoy these scrumptious treats than Lunar New Year. Kouign Café has prepared a special White Rabbit Gift Set for the Year of the Tiger, packaged beautifully in a bamboo steamer with three different dipping sauces on the side for maximum enjoyment.
The White Rabbit Gift Set is part of the Chinese Restaurant Awards' Feast of Fortune fundraising initiative. 20% of the proceeds of each gift set will go to the new St. Paul's Hospital at the Jim Pattison Medical Centre.
Lunar New Year Fashion Gifts
"In our family, my mom is the keeper of our Lunar New Year traditions. Each year, she will don her nicest red outfit and plan out dishes for dinner that represent health, good fortune and an auspicious new year ahead"

David Chiang, HR Manager at LIV Design Studio
Good food and a clean, refreshed home are tantamount to a successful Lunar New Year, but rejuvenating your clothing from head to toe is an equally important aspect of the holiday. Weaving crimson and gold elements into your outfits is a surefire way to invite good fortune to the year ahead, and The LIV Design team has picked some festive favourites to stylishly accompany your celebrations.
A.P.C.
The Year of the Tiger is the perfect time to incorporate bold graphics into your everyday attire, and A.P.C has captured this perfectly with their Lunar New Year Taylor Sweatshirt. Emblazoned with an eye-catching tiger graphic and red lettering, this grey French terry sweatshirt is the perfect relaxed staple to accompany your Lunar New Year celebrations, not to mention the rest of the year ahead.
Dior
Dior has released a limited edition Lunar New Year lipstick in "Iconic Red" to assist you in adding festive tones to your everyday beauty regimen. This fortuitous hue is the perfect complement to your festive attire and the floral tiger box that houses it makes this luxurious lipstick the perfect gift for friends or family.
Lululemon
In the spirit of the Year of the Tiger, Lululemon has brought us a collection of activewear perfect for tackling our fitness ambitions head-on. The Vancouver-based athleisure stalwarts created a line of Lunar New Year inspired clothing in various shades of crimson, some even featuring the tiger's iconic striped pattern.
Lunar New Year Experiences
Gatherings in the home tend to occupy many families' Lunar New Years celebrations, but this is also an ideal time to come together over a shared experience. Channel the courageous spirit of the Tiger and try something new this year, or come together to create a new tradition with your loved ones. The LIV Design team is shining the spotlight on some festive events and experiences designed to encourage exploration and enjoyment this Lunar New Year.
Fly Over Canada – Soar Over Taiwan
Air travel may still be heavily regulated, but Fly Over Canada has the perfect solution for those looking to experience the wonderment of international travel, without leaving home. From January 6th until February 13th, you and your loved ones can view the breathtaking sites and landmarks of Taiwan from above, including the Yanshui Beehive Fireworks Festival, the waters surrounding Green Island, and the island nation's many iconic tea farms – all without leaving Downtown Vancouver.
iDen and Quan Ju De Beijing Duck House
Quan Ju De is an iconic restaurant that has been making some of the world's best Peking Duck since 1864. The original Beijing location has a proud history of hosting visiting dignitaries and even heads of state, and now Vancouverites can finally experience the esteemed dishes for themselves. For a truly unforgettable meal, opt for the iDen 9-course menu, which offers a 5D experience that immerses all of the senses, in addition to offering some truly spectacular dishes.
The Lantern City at the Vancouver Art Gallery
The Lantern City celebrates Vancouver's diversity and fully embraces our city's rich cultural heritage – making it an ideal event to experience with family or loved ones. The lanterns themselves are each designed by a local artist to represent their own unique community while also welcoming visitors as part of their own family.
Lunar New Year Gifts For Kids
There are plenty of reasons for little ones to love Lunar New Year. The promise of abundant sweets, new clothes and hóngbāo (red envelopes usually containing money to symbolize good fortune) is practically every child's dream. The LIV Design team has picked out some excellent gifts for the children in your life this Lunar New Year.
LEGO
LEGO's elaborate Lunar New Year Ice Festival playset promises countless hours of enjoyment and allows kids to interact with many Lunar New Year traditions in a fun, creative way. The extremely detailed winter scene incorporates traditional family activities and even has its own character in a tiger outfit specifically created for this year's celebrations.
Hunter
Hunter's coveted wellington boots are a wet-weather staple here in Vancouver and their adorable Kids Lunar New Year Tiger Rain Boots are an adorable, kid-friendly take on their classic style. Fully waterproof and undeniably cute, this boot features an illustrative tiger print with 3D accented ears.
Roots
Though Lunar New Year officially welcomes spring to Vancouver, the cold weather isn't over just yet. These stylish socks are guaranteed to keep your little ones' feet warm for winters to come, with a tiger boldly emblazoned on the ankle and Year of the Tiger printed on the sole.
---
From all of us at LIV Design Studio, we wish you health, happiness & prosperity this Lunar New Year.
PREV. ITEM
NEXT ITEM
READ COMMENTS -
0 COMMENTS