"The complexity of this new red violet infused blue hue highlights the expansive possibilities that lay before us."

Leatrice Eiseman, Executive Director of the Pantone Color Institute
As we cap off an admittedly tumultuous 2021, it's time to set our sights on what lies ahead. Pantone's 2022 colour of the year looks forward to an uncertain future with hope rather than despair – embracing the transitional moment we collectively find ourselves in and welcoming all that's yet to come with open arms. This spirit of invention, ingenuity and fearless resolve is precisely what PANTONE 17-3938 – Very Peri represents.
Embracing innovation
Drawing influence from both the steadfast confidence of the blue colour family and the spirited curiosity of violet-red hues, Very Peri is a rumination on human potential and an astute symbol of our current cultural zeitgeist.
The colour possesses an undeniable dynamism that points both to the ever-expanding horizons of digital design, as well as the resilience of the human spirit in times of turmoil. 2022 also marks the first year in which Pantone has created an entirely new shade for their colour of the year, which speaks to the innovation inherent in Very Peri.
"The Pantone Color of the Year reflects what is taking place in our global culture, expressing what people are looking for, that colour can hope to answer", says Laurie Pressman, Vice President of the Pantone Color Institute. In a world of near-infinite potential, Very Peri serves as a guiding light for designers and creatives the world over.
LIV looks to the future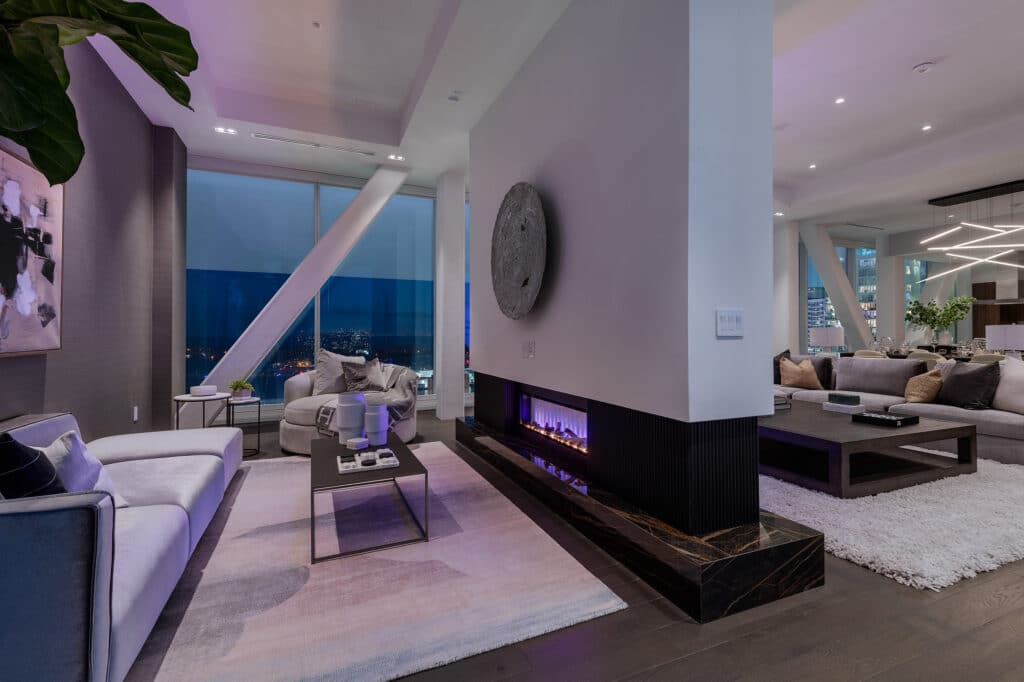 LIV's work for the Bridge Suites in Toronto pre-empted many of the themes and motifs that Very Peri represents, all the way back in 2019.
The design direction for this iconic luxury penthouse was simplicity and an undeniably contemporary feel. Neutral tones abound, with myriad marbles adding a touch of elegance. The image above, photographed in an iridescent, unmistakably periwinkle light, provides an at once futuristic and inviting feel that encapsulates everything Very Peri represents.
For this project, the team was tasked with pushing the boundaries of the pre-defined space to their absolute limit – similar to how Very Peri implores us to respond creatively to the altered creative landscape that lies ahead.
Working within the multi-million dollar penthouse's existing architecture, LIV was inspired to create a breathtaking glass staircase which ultimately became the defining feature that elevated the entire suite.
Further reading — Design Deconstructed: Bridge Suites In Toronto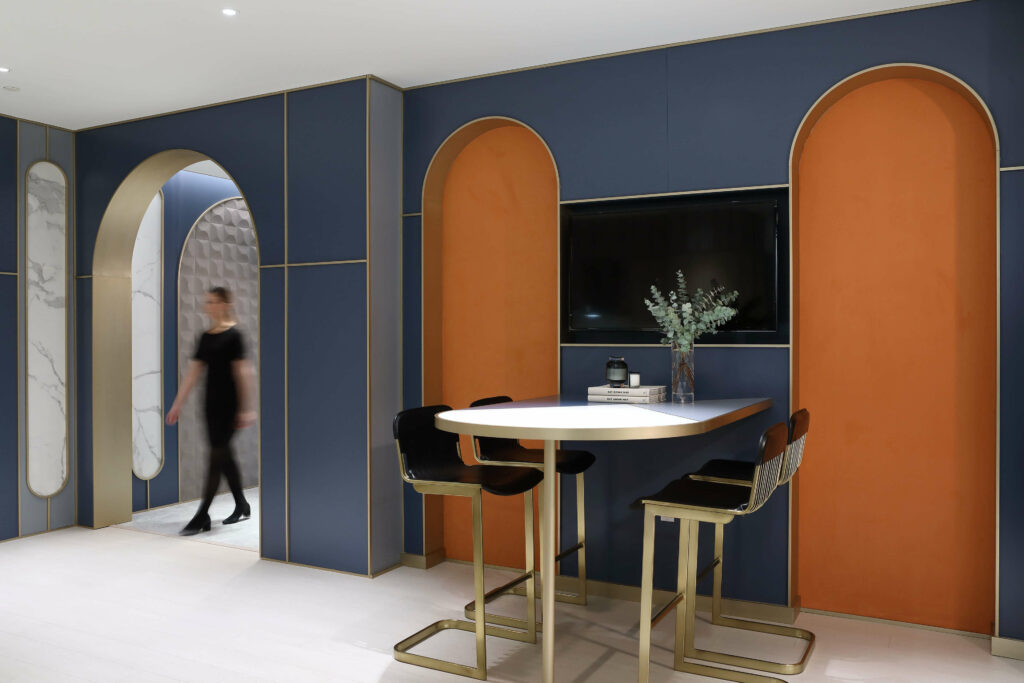 Seen here in our Surrey Presentation Centre, a bold periwinkle wall is juxtaposed with intricate brushed brass details and arched entryways to make for a stunningly sophisticated design.
Taking inspiration from gentlemen's clubs of the past, the vibrant violet-hued blues add a modern, forward-looking touch to a space that is at once classic and revolutionary – much like Very Peri itself.
Design inspiration with Very Peri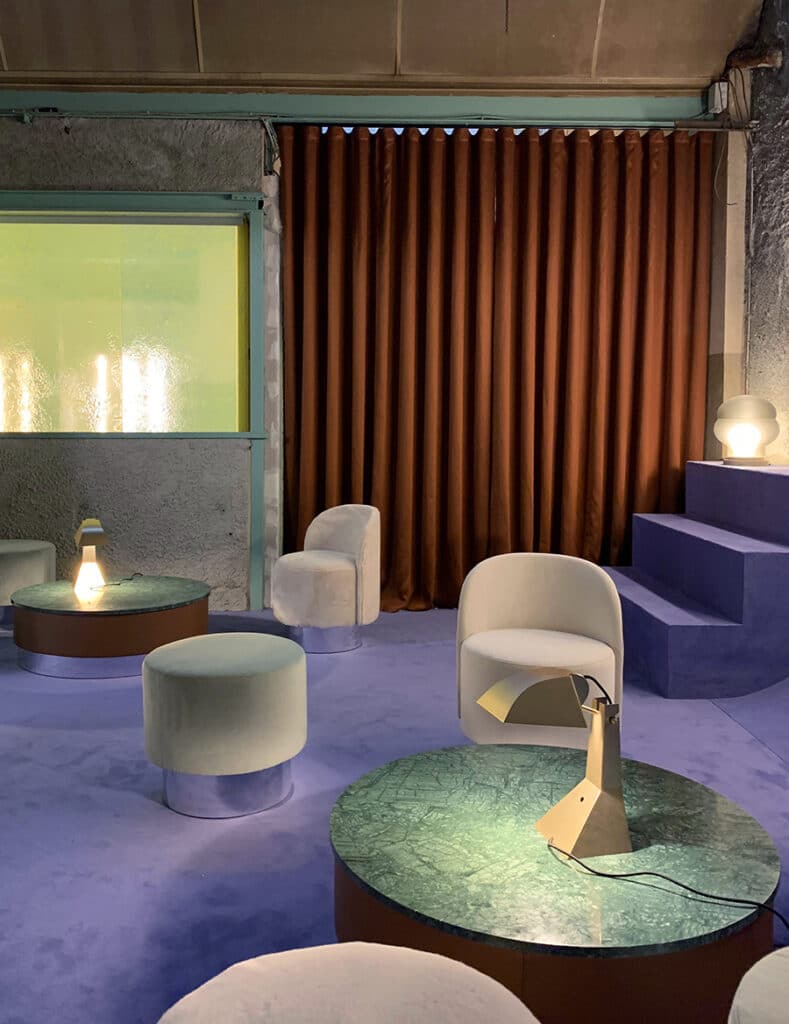 "Very Peri conjures a certain sense of nostalgia – the vibrant hue calls to mind Y2K iridescence and what we collectively imagined our futuristic realities to look like."

Natalie Parade, Interior Designer at LIV Design Studio
Whether used sparingly in accents, or wholeheartedly embraced as in the Manifesto Project (pictured above) by designers Ariana Lelli Mami and Chiara Di Pinto of Studiopepe, periwinkle possesses limitless possibilities for nuanced creative expression.
In this colourful design, Studiopepe reconfigured a warehouse formerly used for gold manufacturing – transforming the space into a whimsical exploration of the arcane that carefully navigates the boundaries of what is real and imagined.
The distinctive purple-blue carpeting and stairs make for a plush reimagining of periwinkle's possibilities, adding to the interior's esoteric appeal.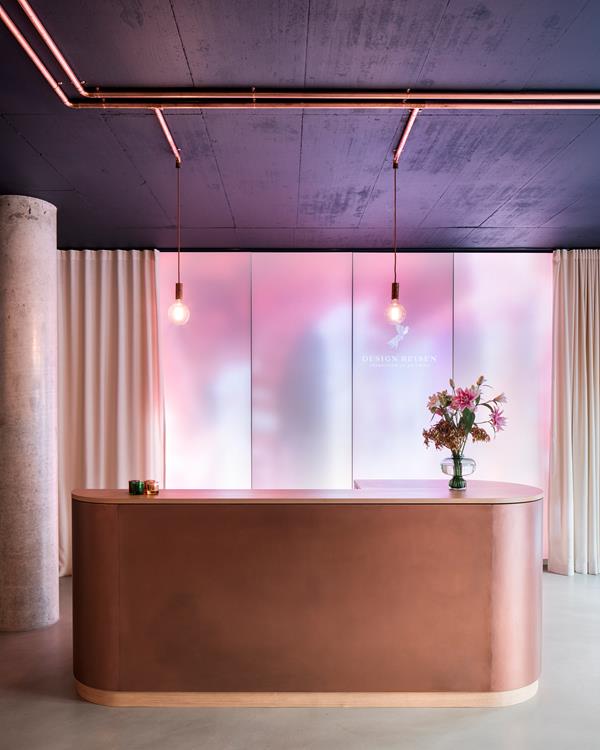 The offices of the Designreisen Travel Bureau in Munich, Germany are a veritable case study of periwinkle's ability to draw attention to a space.
This inventive use of the colour highlights the eager anticipation and boundless potential that travel brings, balancing minimal lighting and an elegant oval-shaped reception desk with an accenting periwinkle ceiling, with exposed copper piping tying the office space together.
Colour trends in the home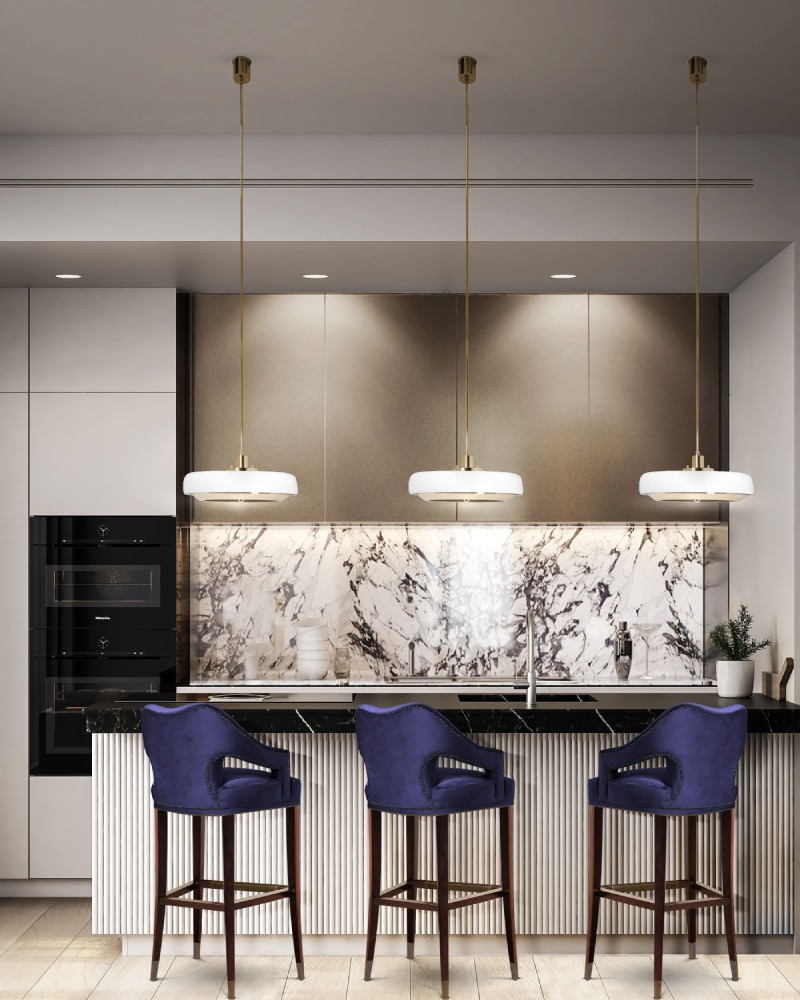 Rich periwinkle hues can easily add a touch of panache to any living space when used as an accent or in a stand-out statement piece.
Pictured above, the Nº20 counter stool by London-based BRABBU Design Forces meshes seamlessly in this pared-down, modern kitchen – bringing both warmth and a certain moodiness to the white, grey & brown interiors. The interplay of the stools' swooping legs and irregularly-shaped back with the clean, straight lines is flawlessly executed and makes this kitchen at once relaxed and refined.
Likewise, the Godot Sofa by Iksos-Berlin uses smooth lines and a pronounced shape to highlight periwinkle's subtler nuances. Its positioning against a contrasting brown accent wall helps to bring out the greyscale tones of the rest of the room while allowing the sofa itself to stand out without overwhelming the space.
LIV's favourite pieces
"I can see this colour coming to life in interiors primarily through art, graphics, and accessories to add dimension and catch users' attention"

Natalie Parade, Interior Designer at LIV Design Studio
To assist you in adding a dash of periwinkle's lively self-assuredness to your own interiors, the LIV Design team has curated a selection of our favourite pieces highlighting Pantone's 2022 colour of the year.
The Italian Retro Gelato Bowls by IVV are a playful way to add a splash of retro-inspired colour to any kitchen, while these Danish Modernist Vessels offer a more contemporary way to invite the hue into your home.
These Reusable Sandwich Bags from Stasher offer a sustainable way to incorporate just a hint of periwinkle into your everyday life. Or, opt for a more sweeping statement of your commitment to the colour with the Dreamview bed by Roberto Lazzeroni. This showstopping bedframe is pure midcentury elegance, featuring an irregularly shaped yet symmetrical headboard and clean lines that suggest a reverence for the past alongside a more modern sensibility.
Further reading — Six Interior Design Trends For A Post-Pandemic World
---
LIV Design Studio is eager to see how the interior design community reacts to and integrates the striking 2022 colour of the year, and looks forward to incorporating the hue into our own work. To see more of our favourite Very Peri design inspiration, be sure to keep an eye on our Pinterest Board for more ideas.
Cover photo by Jeremy Bishop on Unsplash
PREV. ITEM
NEXT ITEM
READ COMMENTS -
0 COMMENTS